First of all I must tell you about the cutest thing - EVER! Harry, Sis and I went to Blenko Glass last Sunday and I got a plate with a handle on it - shaped like a mouse! And a matching green plate that's labeled: CHEESE!!!
Can't wait to put them to use at the next W(h)ine and Cheese(y) party!
Here's a great pic that our resident photographer, Tiffany took at our last gathering - that's my kitchen with the misappropriated refridgerator in the background: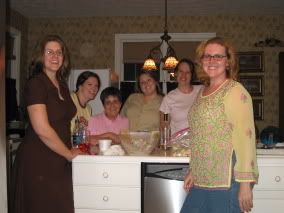 From left to right: Bracken (a newbie to the circuit), Tiffany, Angela, ME (ugh - never wearing THAT shirt again - I look like an old sausage casing), Stacey (she's gettin' hitched in November) and my darling Sister, Summer (she of the shoe-string fingers - check-em out - they're abnormally long and skinny... creepy...).